New LED dimmable Switch Bulb
Views: 3 Author: kina Publish Time: 2016-09-10 Origin: Site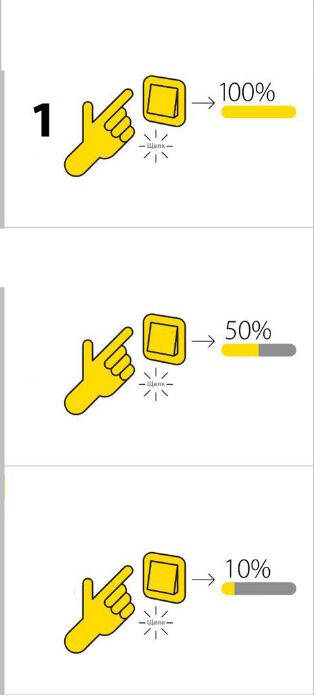 It is really so exciting that our technical department developed some new LED products as below:
LED Switch Dimmable
It is not the normal dimmable lamps. It was controlled by the normal switch. The lamps have three steps of power. For instance: when switch first on, it is 6w(100% power); Take the switch off, it will shut off. Then second switch on, it will be changed as 3w(50% power); The third time will be only 0.6w(10% power). File attached are the photos. Do you have such kind of products?

The parameters of the lamp table please check form, If you are interested, please don't hesitate to tell us.





| | | | | | | |
| --- | --- | --- | --- | --- | --- | --- |
| SPECIFICATION | WATTS/THREE STEPS | BASE | TENSION (V) | COLOR TEMPERATURE | MAXIMUM TEMPERATURE OF OPERATION | DIMENSIONS |
| LED Switch Dimmable Candle 6W | 6w/3w/0.6w | E27/E14 | 180V-250V | 3000K/6400K | 80°C | 37mmx110mm |
| LED Switch Dimmable G45 6W | 6w/3w/0.6w | E27/E14 | 180V-250V | 3000K/6400K | 80°C | 45mmx82mm |
| LED Switch Dimmable A60 9W | 9w/4.5w/0.9w | E27 | 180V-250V | 3000K/6400K | 80°C | 60mmx110mm |