why we choose LED tube
Views: 6 Author: kina Publish Time: 2016-09-13 Origin: Site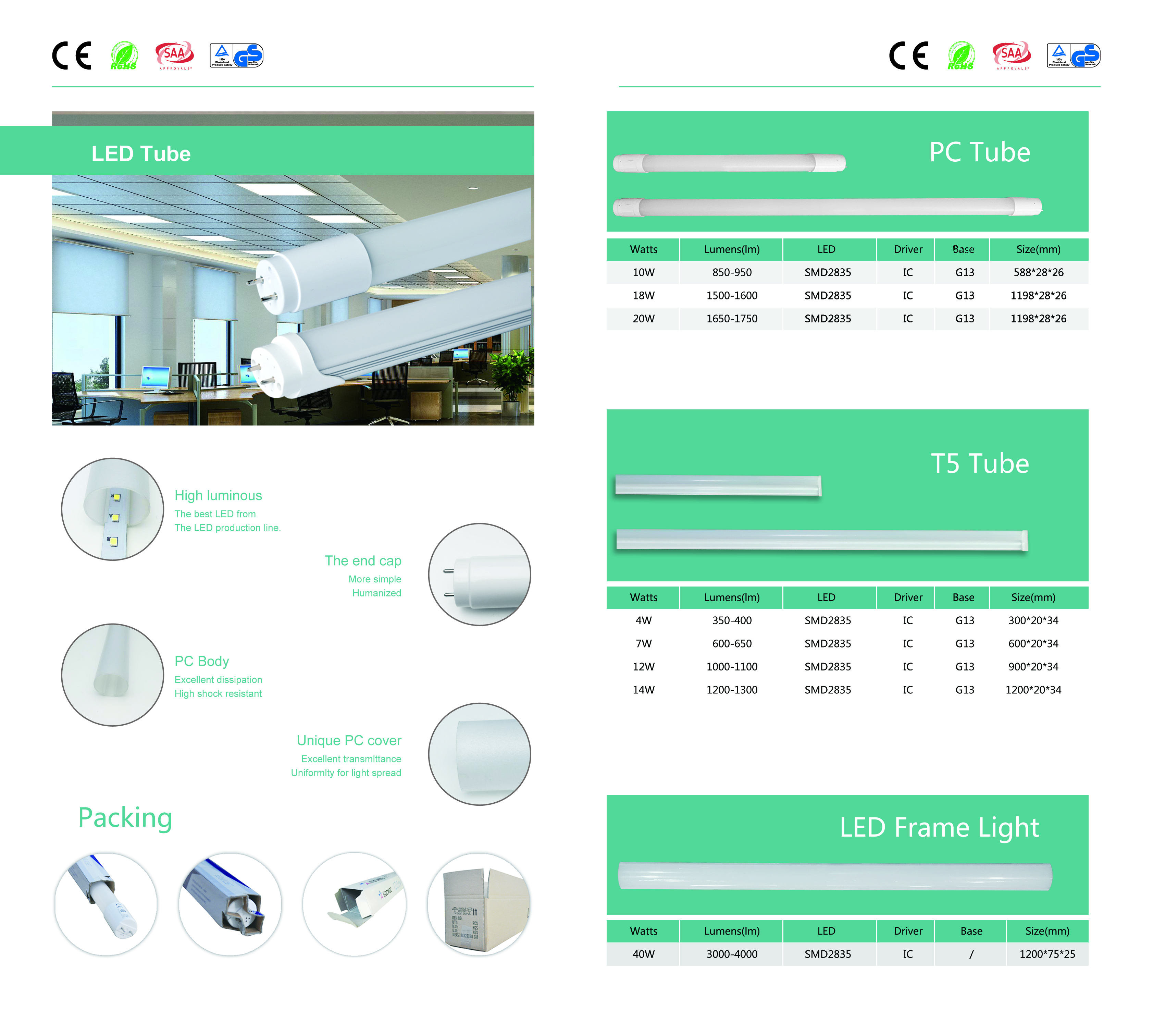 LED Tube Introduction

LED lamps are also commonly known as LED light tube, LED fluorescent tube, LED fluorescent lamp, which uses LED as a light source thereof. The traditional fluorescent tubes, also known as fluorescent lamps have a filament ends, the inner tube is filled with trace amounts of argon and mercury vapor thin, coated with a phosphor on the tube wall, the gas emits ultraviolet light conductive filament between the two, the so that the phosphor to emit visible light. Because it contains heavy metal contaminants "Mercury", making scrapped fluorescent tubes environmental pollution is very serious. The LED lamp uses light-emitting diodes as a light source, light-efficient, more energy efficient, longer life, and more environmentally friendly. Become the stage instead of fluorescent tubes the best products. LED lamp with the traditional fluorescent lamp on the dimensions are the same caliber, there is lamp T5, T8 lamps, T10 lamp, length 0.6m, 0.9m, 1.2m, 1.5m, 1.8m, 2.4m.

LED Tube Applications

LED Tube has many advantages, generally used for general lighting, office buildings, shopping malls, restaurants, schools, homes, factories, and other indoor lighting.

The future of LED tube
As we all know, due to the high energy consumption of traditional incandescent lamp, a huge amount of heat and other shortcomings, is gradually being replaced by the cold light of energy-saving lamps. However, technology is always in progress, the Philips presented a revolutionary invention --TLED warm light bulb. Philips plans to begin mass production in 2015 TLED, first used in industrial and commercial areas, and then entered the home market.
Traditional incandescent bulbs brightness power ratio of about 15 lumens / watt, while the ordinary energy-saving lamps are much higher, up to 200 lumens / watt, TLED On this basis, it rose to a new level, up to about 1000 lumens / watt. According to statistics, the United States energy-saving lamps lighting the annual consumption of 200 billion kwh (China commonly known as degrees), replace all TLED light source, will save $ 12 billion in electricity bills and reduce carbon dioxide emissions by 60 million tons, it sounds very seductive force.
CEO Rene van Schooten proudly said: "Following the massive popularity of the traditional LED, we invented TLED this new technology, and its efficiency improved several times this progress is very exciting, it will give us in this world. Energy saving."

Our LED Tube
We now have a plastic tube, a glass tube and plastic tube, packaging and more details please see picture.